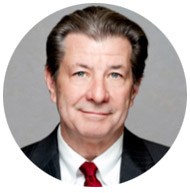 Bob Garrison has more than 10 years of experience helping people navigate the mysteries of Medicare. He is one of the nation's leading experts on health insurance and author of the recently published book, The ABC's & D of Medicare: Medicare Made Simple. Currently he is president of Insurance Connection USA, a regional insurance brokerage.
Garrison and his team provide Medicare education and solutions to thousands of retirees. He partners with companies like Mass Mutual, Farmers insurance, Purewater Capital, and Edward Jones to assist their clients in navigating the Medicare system and selecting the best solutions. In addition he assists retiring employees from companies like American Airlines, Lockheed Martin and many others.
After graduating from the University of Central Washington, Garrison started his career in the Media business serving in Senior Management positions with Gannett, Disney and ABC Television.
In 2004 Garrison expanded into insurance joining Insurance Connection USA, Garrison is on the board of Dallas Association of Health Underwriters, has served on the Agent Advisory council for Cigna, and the Advisory Committee for Care N Care a regional Medicare Advantage Health Plan in Fort Worth. Garrison conducts education seminars on "Navigating Medicare" and also works with individuals consulting on health and Medicare issues.