Selecting the correct Medicare Part D drug plan is important to make sure your medications are covered and the drugs are on the lowest tier.  However, just as important is where you purchase the medications.  Every pharmacy will have unique pricing for specific tier levels and the price you pay for the medications can vary greatly.  Below is an example of a sample list of medications using a standard Part D drug plan and the rates you pay at each drug store for a 3 month supply: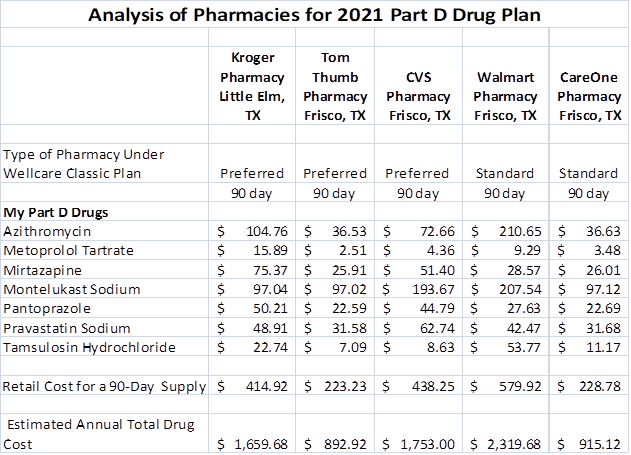 After selecting the correct drug plan and pharmacy you can often save money using Buying clubs or discount coupons as we have articulated below. 
 Rx Buying Clubs and Coupons
Do you know the best way to save money on prescription drugs? The answer is to join a Rx buying club. Rx buying clubs are groups of individuals who combine their prescriptions and purchase them together, usually in bulk.
It allows for significant savings on all the medications that a person needs to take regularly. This makes sense in the USA as its healthcare is termed as the most expensive globally. The good thing is, there are several Rx clubs available across the United States.
Still, the key is to find legitimate ones. Here, you'll find out about several reputable Rx clubs and how to save money on your prescription medication costs. Here is a list of some of the celebrated clubs.
Scriptco.com
Scriptco.com is a prescription drug buying club that helps patients save up on their prescription drugs. The company promises to sell the drugs to its members at wholesale prices. What this means is that they sell at the exact price they get the medications at. They don't put a mark-up on the purchases.
The company has partnered with the cheapest wholesalers and the nation's top pharmacies to help clients find all their drugs at great prices. You have to be a Scriptco Pharmacy member to enjoy the benefits of the drug buying club. You can either opt for the quarterly membership at $50 or the annual membership at $140, but you can cancel at any time. The company doesn't accept insurance.
People on long-term prescription drugs can benefit more from the membership. You have to pay a subscription, but you can quickly recover the money from the highly discounted drugs. In addition, the prescription is shipped to your address, making it convenient and fast.
Scriptco Pharmacy is not just for medications, though. You can also find general health and wellness products such as vitamins, supplements, dental care items (such as toothpaste), hair loss treatments, sleep aids, and more at great prices too.
Blinkhealth.com
Blink Health is an online prescription drug company that promises to attend to you even when you don't have an RX. You'll get an online consultation with a US-certified doctor. According to its website information, the company charges a subscription, but it can be as low as $5 per month.
In addition, they offer discounted prices on many prescriptions for chronic conditions such as diabetes, high cholesterol, hypertension, bronchitis, erectile dysfunction, high cholesterol, and cold sores.
The company promises to help you make a 50% savings on your first order. In addition, you can opt for two different shipment methods. You can either have the drugs delivered to your doorstep or pick them at a nearby approved store. It also accepts insurance.
Blinkhealth.com is a pharmacy-verified website, accredited and legalized. It means that their dealings are regulated, making it safer to trust them with your health concerns.
Blink Health is ideal for patients who prefer the convenience and speed of an online diagnosis and treatment plan.
GoodRx
GoodRx is a website that offers coupons for prescription drugs. The site also has an app that allows users to search by drug and find the best price near them. It also provides ratings of various pharmacies based on how long they take to fill prescriptions, if they have in-store pickup, or deliver at your address.
With GoodRx, you can find coupon codes to get great deals on medications. The website prides itself in having helped prescription drug shoppers make over $20 million in savings.
PharmacyChecker
Just like GoodRx, PharmacyChecker helps you find legitimate pharmacies around you. You can also check prices from different drug stores and find out whether they make online shipments or you have to go to their store. PharmacyChecker is for those who want the assurance of getting genuine drugs from reputable drug stores at lower prices.
As the cost of healthcare and prescription drugs escalates, understand all your options to save more. In 2000, patients had to pay over$25 billion for prescribed drugs out of pocket, and the figure is projected to be more than $67 billion by 2025.  Wondering how to find the best club? Contact us for assistance.